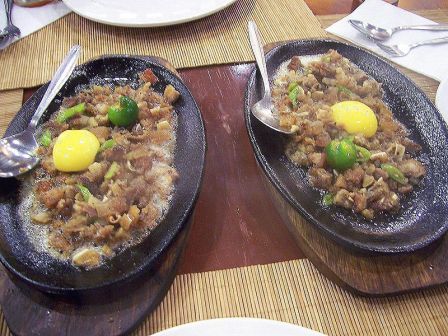 Everyone has his own signature and favorite sisig. Sisig is well-loved by most of Filipinos, in fact we can prepare it in our own style and taste. Kapampangans were the ones who introduced sisig to the neighboring provinces of Pampanga until it became popular in Metro Manila. Then in the latter years, it had spread in some parts of the world, and foreigners do appreciate its uniqueness and savor. They said sisig is one of the best foods they have ever eaten. Sisig is a dish made from different parts of a pig such as head, ear, liver – no waste, every part is used. It is usually seasoned with calamansi and chilli peppers. This is considered Philippines' all-time favorite spicy food, and in demand nowadays in many food establishments and eateries. This dish is so easy to prepare that all you have to do is to chop the parts completely. Sisig can be broiled, boiled, or fried, and it is best served in a sizzling plate topped with egg and minced onions. Some local chefs have modified it. They prepare it with tofu, chicaron bits, chicken, tuna, and more.
Are you now starving now?
Since you adore this dish, it is good to know where and how it was originated. Sisig was first discovered and developed in Pampanga. The local residents there used to buy unused pig heads from commissaries of Clark Air Base in Angeles City. That time, pig heads were cheaply sold because they were not included in the meals for the US Air Force personnel stationed in Clark Air Base.
Are you decided to acquire a sisig franchise?
Yes, many have always wished to operate and manage their own sisig stand whether in their residence or in the malls. But sisig stands are commonly seen along the road where the crowd is.  Now, sisig franchise has grown into many varieties – chicken sisig, beef sisig, tuna sisig, bangus sisig, aside from the traditional pork. Your favorite sisig is best accompanied by a cup of plain hot rice. Acquiring a sisig franchise is a great idea because you know the cravings of the masses. The attitude of most Filipinos is that they try different food items from different food stalls or restaurants. If they like yours, they will keep on coming back to you and refer you definitely to their closed friends.
Companies such as Sisig Hooray, I love Sisig, Oh My Sisig! Sgt. Sisig Express, Sisig Stop of Filtrepreneur Franchise Inc. are the ones who have established their names and reputation in the market.
Photo Credit to Bing Ramos of Flickr.