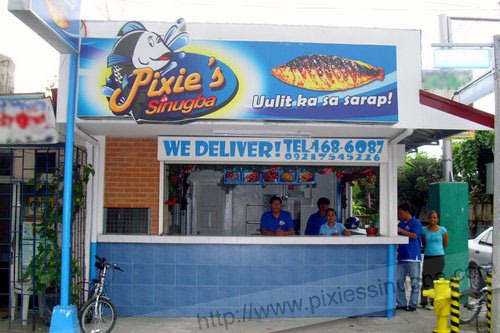 Pinoys love authentic, wholesome food. We cannot get enough of local favorites like lechon, nilangang baka and our national fish, milkfish or bangus. In fact, bangus is one of our national products.
Boneless bangus is an example of "the best of both worlds". Tasty fish with no fish bones. One of the tastiest grilled boneless bangus in the Philippines right now is Pixie's Sinugba.
About Pixies Sinugba
Pixies Sinugba started out as a humble takeout outlet that only sells boneless bangus na walang kaliskis it then became popular and other seafood were added. All products are non GMO and very delicious and healthful.
Pixies Sinugba has more than thirty different outlets in the Philippines. They are looking for more franchisors to distribute their delicious and healthful products.
Pixies Sinugba was Featured in Kabuhayang Swak na Swak!
Pixies Sinugba in Lasang Pinoy (in America)!
The Total Franchising Costs of Pixies Sinugba
The total investment for a Pixie's Sinugba business is around P800,000.00.
Franchise Fee P250,000.00
Construction P200,000.00
Equipment P50,000.00
Cooking Equipment P200,000.00
Stocks 100,000.00
The terms for the franchise is five years, royalty is at 5% of gross monthly income. There is also an additional 2% of gross monthly income, for advertising nationwide.
Why Franchise Pixie's Sinugba?
Pixie's Sinugba is a very popular take out store when it comes to grilled fish.
It is starting to get as popular as chicken take out stores.
The Filipino are starting to get health conscious and fish is the best health food there is. Also, since the sea food products of Pixie's are non GMO, many people who are conscious with their food can enjoy Pixie's.
Boneless bangus is delicious and the Pinoys know it. They also know that boneless bangus is really hard to come by and you have to visit the provinces to get high quality boneless bangus.
The prices are competitive.
Interested to Franchise Pixie's Sinugba?
Interested in starting up a Pixie's Sinugba restaurant and takeout shop? Contact the person below:
Mr. Julito Ong
Franchise Manager
franchise@pixiessinugba.com
(+63) 9157921970
(+63) 9267485104
(+63) 9275580252
(02) 218-7946
(02) 218-4824