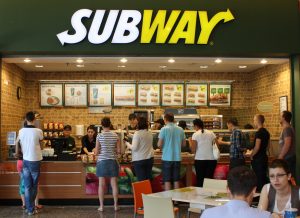 Filipinos are prone to lifestyle diseases such as diabetes, hypertension and hypercholesterolemia and the demand for healthy eating is also becoming more and more popular as these conditions are increasing in numbers.
With this, healthy food and healthy lifestyle are surely the in business these days.  Food that is nutritious, quick and easy to prepare and most of all convenient are the criteria that are needed for the business to thrive and succedd.  This is the only way to counter and compete with the fast food companies that are sprouting like mushrooms in the country.
The good thing about this is that there is an easy way to cater to this hungry market and this is to franchise a healthy fast food chain in the name of Subway – the undisputed leader in fast, healthy food. Subway's specialty are sandwiches and salads that are easy-to-prepare and are made to order right in front of the customer, using freshly baked breads, select sauces and a variety of delicious toppings. Hence, Subway is the home for nutritious and delicious meals and a great business to venture into in the Philippines.
How did Subway Started
Fred Deluca started this submarine sandwich shop.  Because of his dream of becoming a medical doctor, he planned a way to pay for his tuition.  He loaned money from Dr. Peter Buck, his friend who then offered to become a partner in this sandwich venture. From the initial $1,000 investment, the two friends made a name in the world of fast food and made history.  From their first store in 1965 in Connecticut, they eventually became the largest submarine sandwich chain with more than 44,000 stores worldwide.  Both of them believe that in serving well-made, high quality products and providing excellent customer service, these will set them apart from their competitors.  Indeed, they were successful as these were the driving force that made the Subway brand and restaurants no. 1 in terms of franchise.  Even up to today, Subway is still the leading food chain for healthy buffs who wants quick and nutritious meals that even the entire family can enjoy.
In addition to this, SUBWAY® is also rated as the #1 restaurant chain in total restaurant count with more locations than any other chain in the Quick Service Restaurant (QSR) industry.  Thus, for those who are in the dilemma of choosing what business to venture into, the details below might be of help in your business search. Read on and decide well.
Why Join the Subway Team?
A proven successful business set-up (#1 in franchise)
Low start-up cost/investment
Simple operations
Flexible floor plans
A recognized winning brand
Known products from an established restaurant chain
Undisputed leader in fast, healthy food industry
Product includes delicious meals made just the way you want it
World class support network in training (two weeks training program) and continuing learning program for owners and staff
Support network and assistance in product and store development,
Support network in advertising (national and regional) and design,
Support network in lease negotiations
Support network in purchasing cooperative
Construction guidance and field support
Disadvantages
Building construction costs
Location problems
Supplier issues
What are the initial franchising steps?
Show interest by filling up a franchise application form from this site http://www.subway.com/en-ph/ownafranchise/registeryourinterest and this site http://subapps1.subway.com/AdditionalInfoApp/index.aspx?LC=ENG&CC=USA. After filling up these two (2) online forms, click to submit.
After application has been submitted, the Subway's development agent will contact you. He or she is the
local representative of Subway and he or she will also be your initial contact in your area.  He/She will be
assisting you throughout the entire application process until your restaurant is fully functional.
Take that test. This is an initial requirement by your local development office. The test will focus on English
and Math only.  This is a must for newcomers to the Subway system.
Review disclosure document so you could ask questions before continuing with your application
Conduct local research if business is feasible in the area. This is the time to check out possible locations
and process building permits and other local business requirements.
Secure your finances. Make sure you have enough capital requirements to sustain you throughout the
entire duration of the building and operation of the business for about a year or two.
Signing of Franchise Agreement. Make sure to consult a lawyer for legal business inputs and that
everything will be clear to you as you become a franchisee.
Attend trainings and learn.
Process that location and start building.
Prepare for the store's grand opening. This is it. You need to be physically and emotionally prepared to
face this new challenge.  The success in any business relies on its leaders.  Remember this always.
Other Important Franchise Information
Franchising Fee – Depending on the country, the initial franchise rate in US dollars ranges from $10,000 –
$15,000.  In the Philippines, this depends on the exchange rate.  This does not include
building costs and other capital requirements such as restaurant size and store location.
Capital outlay can be a minimum of $135,000 to a maximum of $295,000.
Royalty and Advertising Fees – A fixed rate of 12.5% is paid every week by the franchisees.  This is computed
as gross sales minus the sales tax.  Breakdown is as follows: 8% for franchise
royalties and 4.5% for advertising
For more information on franchise details, click the site below to contact Subway Philippines: https://www.subway.com/en-ph/contactus/contactusform
Posts that you might like: