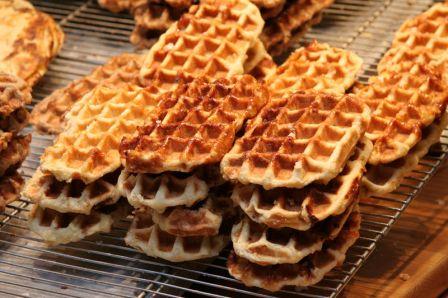 Waffle is a batter cooked in a waffle iron to produce a distinctive shape. Waffle is similar to pancakes, and is also a perfect thing for breakfast. Actually, waffle was invented for those people who prefer to take their breakfast on the go. Waffles are eaten throughout the world, particularly in the United States and Belgium, and often served with delightful toppings such as chocolate, strawberries, sugar, ice cream, honey, syrups, and more. Waffles were adapted into modern American English as waffle in the 18th century. Waffle, like any other foods has its origin.  It was made during the middle ages in the Province of Brabant (now Belgium). That's why there are signature waffles which are called Belgian waffles. Waffle has many varieties and some of them may not be familiar to you:
–          American waffle – comes in round or rectangular shape and usually served for breakfast topped with maple syrup, butter, or honey.
–          Belgian waffle – often served warm and dusted with confectioner's sugar, topped with whipped cream, chocolate spread, or soft fruits.
–          Liege waffle – Liege is a city in Eastern Belgium. Liege waffles are denser, richer, and chewier kind of a waffle. This is the most common type of waffle in Belgium, commonly served with cinnamon or vanilla syrup.
–          Bergische waffle – this is the specialty of Bergisches Land, a region in Germany. This type is less dense and crisp, comes up of a heart shape, served with cream and berries.
–          Hong Kong style waffle – commonly known as the 'grid cake' or 'grid biscuits', often sold in the street, larger than the traditional waffle; soft and not dense.
–          Pandan waffle – this has a touch of pandan and coconut milk originated from Vietnam.
–          Scandinavian waffle – thin and heart-shaped kind of a waffle.
–          Stroop waffle – thin waffle with syrup filling, originated in Netherlands during 18th century.
There's no high end or middle class coffee shop that never serves waffle. Waffles have been a perfect partner for coffee and any hot espresso and non-espresso beverage. On the other hand, food stalls that serve waffle of any kind, could it be a gourmet or fruit waffle have become very popular nowadays as they are sold in a very affordable price. For a less than twenty pesos, you can satisfy your tummy and cravings. Waffle is an ideal business. Familiar with these famous waffle stalls in the metro? Magic Waffle, Pinoy Waffle, Waffle Time, Fruits and Waffle, Happy Waffle of Filtrepreneur Franchise Inc.