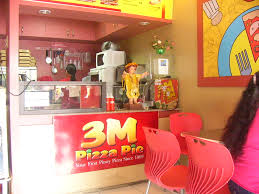 If there is one thing you can say about a Filipino, it is that Pinoy just love to eat. Just take a step outside and you will notice that there are food vendors all around: street foods, soda vendors, fast food are everywhere. The average Filipino will not be able to get out of the house without a snack or two in hand.
Pizza is one of the most popular foods the Filipinos love. We may not be Italian, but this Italian food had made its way into the Pinoy hearts and minds. The pizza had become one of the most loved snack of all time.
3M pizza is one of the most popular and most delicious pizza in the Philippines. If you are thinking about starting your own pizza business, look no further than 3M.
About 3M Pizza
3M pizza opened its doors to the franchising biz in 2007, by Merle Hernandez. 3M started the kiosk-type pizza franchise, and it became a instant hit to the Filipinos. Now, it has around 40 branches worldwide, and are serving more than a million Pinoys every month.
The 3M Pizza Kiosk is found mostly in shopping malls and food courts, but you can build your 3M pizza in any proper-looking establishments.
3M Pizza has these flavours:
garlic and cheese
ham and cheese

hawaiian

delight
mushroom mania
pepperoni feast
beefy meat sauce
gardeners delight
supreme pizza
How to Franchise 3M Pizza: Franchise Fee and Requirements
The franchise package costs vary for any type of business you want to have
Cart Type Package (4 – 6 sq.m) – P275,000
Booth Type Package (4-6 sq.m)- P250,000
Basic Sit-in Package (10 -30 sq.m) -P300,000
These include:
cart construction/store design
equipment and utensils
initial inventory
marketing collaterals
grand opening assistance
training and seminar
uniform of service crew

use

of 3M Pizza name, trademarks and logo

access

to the 3M Pizza operating system
Royalty fee is 5%, advertizing fee is 1% and the contract lasts for years, but are renewable for another 3 years at the end of the term.
Want to Start Your 3M Pizza Business? Check out these contact details to contact them!
Websites: 3mpizzapie.com.ph, www.ufranchiseasia.com/#!3m-pizza/c12qr
Email: 3mfranchise@3mpizzapie.com.ph
Telephone nos.: (02)412-8636, (02)410-3766
Fax no.: (02)412-8636
Address: #12 Orestes Lane, Mariposa Street, Brgy. Bagong Lipunan, Quezon City, Philippines 1111