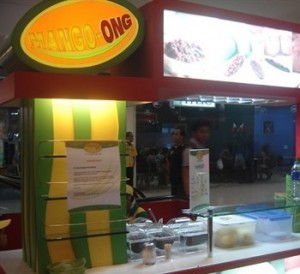 One of the delicacies in teh Philippines is a green, raw mango, dipped in the sweet, salty and spicey bagoong. This is usually eaten in the street and at home, but now, manggang hilaw is being sold in food carts in the malls. Mango-ong is one of the pioneering businesses in the green mango food cart industry and currently, they are the bigger players in the malls.
Green mango is rich in vitamin C, making more of this essential vitamin than 35 apples. Now that si a lo of vitamins. The bagoong itself, while very high in sodium, is rich in DHA, which contributes to the betterment of brain and heart functions. So eat up your mannga't bagoong snack and experience the benefit!
About Mango-Ong
Founded by Mr. Gubat in 2010, Mango-ong was not the only conceptualized food cart by Guby Foods, a company that Mr. Gubat owns. Their main specialties are penuts and chicharon, which are also very lucrative in the malls. His quest for variety led to the conceptualization of the well loved maggang hilaw at bagoong in 2010. The very first stall was in SM Taytay, and soon, other food carts started sprawling in the malls, mainly SM malls. To date, Mango-ong has 18 stalls, and have reached further provinces like Pangasinan, Tarlac and Pampanga.
Where are the Stalls Located? I want to taste the Mago-Ong Green Mangoes!
The stalls are manly located in SM malls, but also in RObinsons and Ayala Malls. If it is a mall, it is worth to take a look! The stalls offer green mangoes with different types of bagoong, ranging from ver sweet to very spicey. they also serve singkamas, for those who cannot tolerate the sourness of green carabao mangoes.
The food carts are well tended too, and the crew are very well groomed, ensuring cleanliness of the well loved Pinoy snack.
Mango-ong prooves that there is a cleaner and more enjoyable version of the beloved Filipino dishes. Even the old bagoong alamang can become really clean and tasty, as well as presented in the most appetizing manner possible.
How to Franchise Mango-Ong?
Unfortunately, Mango-ong is not for franchising at the moment. But keep your eyes on this article. We will update this as soon as we get the word that the company is starting to accept franchisees.
For More Information, You May Contact Mango-Ong the Following Details:
Green Mango-Ong Foods Corporation
70b Road 1, Project 6, Quezon City, Metro Manila, Philippines
+632 3324376