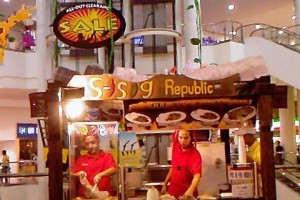 Who can resist the alluring sisig? Sisig is one of the favorite pulutan or even ulam of Pinoys of this generation. Why is sisig so popular? Sisig is believed to have originated as a Pampangan delicacy which is often served when there is a drinking session or commonly known as "inuman".   Sisig is such a flavorful dish, no wonder Pinoy has learned to pair it with rice in other words it became also an ulam which can be enjoyed during meals not only during inumans. Sisig is basically made up of pork head and liver, some are adventurous to mix it up with mayonnaise, chili sauce or raw egg on top of the sizzling sisig. Sisig is well loved in either way that it is served.
If you have plans of venturing into the food business and you would love to have sisig as your main product then why not try Sisig Republic.
About Sisig Republic
Sisig Republic is owned and proudly developed by Prudent Entrepreneur Specialist, Inc with Jessie Cutillas as its Chief Operating Officer. The company is focused on franchising, basic outsourcing and consultancy. It has been in the business for fourteen years already with its roots which started in Pampanga. The first franchise they have opened was at Paco, Manila and since their humble beginning it has evolved and branched out to several franchisees not only in Metro Manila but also in nearby provinces of Luzon, Visayas and even in Mindanao.
Prudent Entrepreneur Specialist, Inc is usually dedicated to continual improvement connected with competitive and also different enterprise principles that can help create the product quality and also standards connected with items designed for the acquiring community.
Prudent Entreprenuer Specialist, Inc has various concepts to choose from and they are as follows:
Alturas Save
Angel's Burger Chain
D'Hauz of Style Noodles
Dimsum Republic
Ice Cramble
Inasal Republic
Mango-Ong
Mang Litson
More Save Kiosk
Mr. Hungry
Prutas De Season
Oi Binatog
Oi Buko Shake
Oi Burger Style
Oi Combi Express
Oi Green Mango
Oi Hong Kong Style Noodle
Oi Japanese Sweetcorn
Oi Mango!
Oi Rice n a Cup
Oi Siomai House
Oi Sisig Express
Young Chow Food Cart
Sisig Republic serves not only the typical pork sisig that we love, they also serve variety of sisig concepts such as: bangus sisig and chicken sisig. The ingredients are all fresh and they are prepared right infront of the customer's very eyes which adds to the excitement of the customer.   The preparation is not only fast and amazing, it also comes at an affordable price. For less than 100 pesos, one can get to enjoy the genuine Pampanga sisig and for refreshments, there is the balck gulaman to be served and replenish one's thirst. Sisig Republic is not only tasty or flavorful and affordable, it also give its customer an increase appetite to crave for more because of the succulent and palatable ingredients. It's moist and crunchy ingredients make the customer go gaga over sisig!
How to Franchise Sisig Republic?
If you have decided to join the franchising wagon and avail of Sisig Republic as your food cart concept. You better check out the detailed steps below for your enlightenment.
STEP 1
You need to furnish and submit your updated resume along with your letter of intent and a valid government issued ID and send it to Prudent's marketing officer: Ms. Angela Suelen in any of her given email addresses: prudentcustomerservice@yahoo.com.ph / mango_ong@yahoo.com
STEP 2
You can expect a response from the company after twenty for hours from the time you have sent your documents. You will then be scheduled for a business orientation which will be given on the email response that you will receive.
STEP 3
On the day of your business orientation, you will be asked to fill out an application form.
STEP 4
Once you have finished the franchise application form, you need to accomplish a pre-assessment form and pay the necessary reservation fee.
STEP 5
On the pre-assessment form, you will see various requirements that are prerequisite to your franchise application. You need to submit those requirements to be able to pursue with your application.
STEP 6
Once you have submitted all the necessary requirements, then you have to settle the down payment and affix your agreement on the reservation form.
STEP 7
The sales group of the company will collaborate with you to check out your target location and will give you advice with regards to your chosen spot.
STEP 8
You will be scheduled to attend a training and you need to settle the full amount of the franchise fee before eventually signing the franchise agreement.
STEP 9
You will be subjected to your final assessment and the company will help you to prepare for your grand opening.
STEP 10
The food cart and included equipment will be given and placed on your chosen location. Your grand opening will commence on the following day after the goods have been delivered accordingly.
Having your very own business is like having a golden goose that you could depend on. Through franchising, you would not bother to introduce your business concept to the public. All you have to do is to focus on your business and how to make it more efficient and generate more profits.
To know more about Sisig Republic and for further information and updates, you may give them a call or visit through the following contact details below:
Prudent Entrepreneur Specialist Group
CRS Tower 1535 Perdigon St. Annex Building Unit 211, 2nd Floor,
Prudent Office, President Quirino Ave. Paco Manila, Philippines
Tel. No. (02) 516-2381 / (02) 404-9624
Mobile Nos.: 0926-5407-204 / 0933-6156-795 / 0920-2910-048