Bibingkinitan: Proudly Filipino Made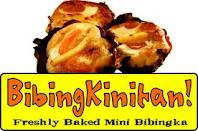 Bibingkinitan changed the way Filipino eat their traditional bibingka. Usually we can only see Bibingka during Christmas season, but Bibingkinitan made it possible for us to enjoy this Filipino popular delicacy. Pinoys will never miss this soft and moist bibingka.  For only Php 50 you can indulge yourself with this tasty treat and a cup of Barako coffee to wake you a bit.
Truly Filipino, Proudly Filipino
Bibingkinitan is made of 100% Galapong (rice flour), salted egg on top, and sprinkle of cheese giving it a creamy taste. That is how we know our good old bibingka, but Bibingkinitan created some wonderful flavors that Pinoys will surely love. From the original Bibingkinitan they created new flavors like the Macapuno Bibingkinitan made from the original rice cake recipe with strips of sweet macapuno as toppings; Pastillas Bibingkinitan, Bibingkinitan with pastillas made from sugar and milk; Ube Bibingkinitan made from the Original Bibingkinitan cake and ube jam on top; Crunchy Peanut Butter Bibingkinitan topped with delicious peanut butter sprinkled with crunchy peanut bits.
Knowing Your Bibingkinitan More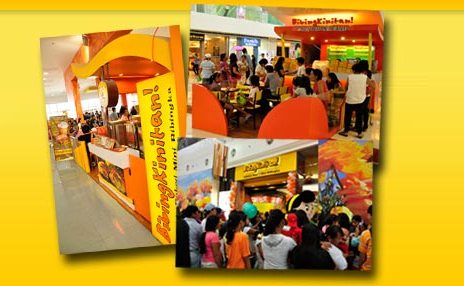 Bibingkinitan has been widely recognized as one of the Philippine's leading bibingka and coffee chain. It is easy for them to be distinguished because of their unique idea.
Founded around 2006, this food concept developed to be the new high flyers in the food franchising industry, with in five (5) years Bibingkinitan was able to be one of the market leaders in terms of their revenue. Their store presence made them even popular they already have 200 store networks in some major cities in Metro Manila and towns across the country.
Bibingkinitan contributed a lot in our country's economy by providing business opportunity and job availability to Filipinos. They also pulled the interest of people to know more about the Filipino delicacies thru their aggressive expansion. Bibingkinitan stores are warmly welcomed by customers all over the country giving them the opportunity to expand more.
Bibingkinitan has gathered numerous awards from Award Giving groups like the Entrepreneur Magazine Philippines like 2010 Fastest –Growing Franchise Award, 2010 Best in Franchise Support, 2009 Fastest- Growing  Franchise, 2008 Fastest – Growing Franchise, 2008 Best in Franchise Support and 2007 Best in Franchise Support. These awards only show how strong this company is growing.
Be a Part of the Fastest Growing Franchising Company
Bibingkinitan is open for franchising. Bibingkinitan is so saleable, your preferred areas can be inside some malls, hospitals, offices, roadsides areas, schools or even a gas station store. Be a part of this growing company, we want you to enjoy the success Bibingkinitan Franchisee had reached. Be a Bibingkinitan Franchisee now!
Franchise Details:
Franchising Fee: Php 200,000
Estimated Store Construction: Php 300,000 – Php 500,000
Security deposit: Php 100,000
Investment: Php 500,000 –Php 1,500,000
Store space requirements: 20 – 50 Sq. m.
Advertising fee:  two percent (2%) of gross sale
Contact Details:
Address:  2nd floor UNIOIL Center, Commerce Corner Acacia Ave. Madrigal Business Park, Muntinglupa City, 1780 Metro Manila, Philippines
Tel. No.: (632) 846-4646
Fax: (632) 809-0884
Email: info@foodasia.com.ph
Website: www.bibingkinitan.com