Burgers and the Burger Franchise

Make your favorite burger an extraordinary burger.  I am a fan of a hamburger, and it doesn't matter where it was bought. What matters to me most, is the taste and the scrummy factor that would linger in my memory for the rest of my life. I may be exaggerating but that's the way I can describe it since I am a certified foodie. Hamburger is actually a sandwich consisting of a cooked beef patty served in a bun, sliced tomatoes, onions, pickles, cheese, and what else? Ketchup, mayonnaise and hot sauce must not be forgotten. Mustard is optional. But for me, I love burgers with mustard. Maybe I've got an American tongue when it comes to burgers. The term, 'hamburger' was originated and derived from the word Hamburg, a place in Germany. Germans and other western people do eat a dish called Hamburg steak. The idea of producing hamburgers was brought to the US, and it was adapted to what we know as a hamburger today. In fact, Americans are mainly responsible for shaping the burger into its present form. Nowadays, there are lots of hamburgers with terrific style and savor to choose from. To complete your meal, a burger is best accompanied by French fries and your favorite drink. Burger has become a popular and signature fast-food item, and people from all ages and walks of life do love it so much. It actually consists of bread, meat, and vegetables – a whole meal in one.
Would you like to know the world's most expensive burger?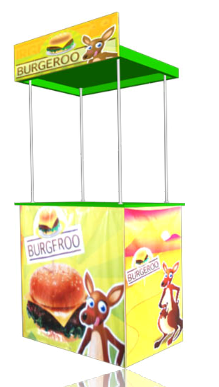 I guess my one-year salary wouldn't be enough to buy this expensive burger. It's an eye-popping US$5,000 for just a single burger. A renowned chef by the name of Hubert Keller is the guy behind this luxurious burger. He called his burger 'FleurBurger' and is served at Fleur de Lys in Mandalay Bay, Las Vegas. It is a Kobe burger containing foie gras, a special truffle sauce, and is served on a brioche truffle bun with black truffles on the side. Where on earth can we find these strange ingredients? Would you like to try?
Since we're talking about burgers here, did you know that a lot of burger stalls are available for franchise? Do you want to sell buy-one-take burgers? The concept, buy-one-take-one burgers has become popular nowadays and many entrepreneurs are opting for this type of food cart concept as this is proven to be well-liked by the masses.
Burger Franchise is being offered by these famous companies such as Angel's Burger, Buena Bonita, Captain's Burger, Minute Burger, Brother's Burger, Filtrepreneur Franchise Inc.'s very own Burgeroo.
Posts that you might like: