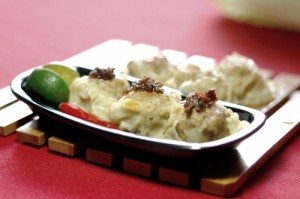 When it comes to the business ventures, the latest craze nowadays is franchising. Why franchising? With franchising, you need not to have a hard time introducing your business concept to the market because the name is already established for quite some time. Advertisements are already out and you need not to be a marketing expert to exert more efforts on making your name known to the public. Speaking of franchising, the most sought after trend in the franchising business is the food cart industry. For obvious reasons, Filipinos just love to eat. We eat more than three times a day, we have snack or merienda and even midnight snacks. Actually if you would count pre and post workout snacks then that would add more. But anyway, if you are planning to get your very own food cart franchise then you need to make a very rigid and thorough research on what your target consumers would long for.
For the Pinoys who are always budget conscious, affordability of the product counts. Affordable foods that we have available are mostly finger foods or snacks. And among these finger foods, the most prevalent name that astounds everyone is siomai. Yes, this long time Chinese snack has been around and has always been the crowd's favorite. Even in the food cart industry, siomai is one of the best sellers. Aside from the taste of the siomai which is well loved and adapted by the Filipinos, siomai is easy to munch and is very apt for the Pinoys who are always on the go.
Without further adieu, we now give you the top 5 siomai food cart franchise in the Philippines, see our prepared list below for your reference:
Siomai Chino
Siomai Chino franchise offers a scrumptious line of siomai from the traditional pork siomai, shrimp siomai to beef siomai and Japanese siomai. It is developed by Silver Ace Franchise and Business Development (which is formerly known as Four Supremo Franchising and Marketing). The single cart package costs only thirty thousand pesos and this includes the basic equipment and utensils needed for operations. If you are looking for an affordable food cart package to start your siomai business then Siomai Chino is the right one for you. You also have the option to upgrade your concept into dual or triple concept combination any time, hassle free! There is no royalty fee, no renewal fee, no quota and definitely no hidden charges! The single cart package worth Php 30,000 includes: the use of name and logo, free training of your crew, collapsible food cart, one siomai steamer, food tong, sauce dispenser, preparation materials, one set of crew uniform or the crew shirt, one thousand pesos worth of sample products, franchisee training and E-Loading business (activation of SIM card as retailer SIM). It's like having two businesses at the same time for this added benefit. If you wish to avail of the Siomai Chino franchise, you can check our page for that. Click here!
Contact number 09175868176
Master Siomai
Master Siomai is known for its authentic Japanese taste in its siomai due to the sea weed embracing the siomai and the Japanese set up of the food cart. Master SIomai is proudly developed by Masteriffic Foods which is also known for being a supplier of processed meat to various establishments such as hotels and groceries nationwide. With over 600 outlets in the Philippines, Master Siomai is one of the big players in the siomai franchising industry. The customers just kept on coming back for more due to the superb and high quality taste of their siomai. Siomais come in a variety of flavors and blends that the Filipino tongue just can't get enough of. It has beef siomai, pork siomai, shrimp siomai, combination of pork and shrimp and now in tuna. You can Master Siomai food carts in almost all busy places in the country which makes it even more popular. The price of the siomai is very affordable, for only less than fifty pesos, you would get to enjoy a fab snack of siomai with a drink to refresh you as you munch. Franchising Master Siomai food cart is also pocket friendly for the aspiring entrepreneur for only Php 280,000 with no royalty fees, you could get to start with your very own siomai business. This includes the following: one unit Japanese inspired food cart, one Unit 5-Cu. Ft. chest freezer, one stainless siomai steamer, one plastic juice container, kitchen and plastic ware, food and paper products, crew uniforms and some cleaning supplies.
If you have decided that Master Siomai is the right siomai franchise for you, then you better contact them. You can reach them through the following contact details:
Franchising Department
Master Siomai – Main Office
88 C. Arellano St. Brgy. Ibaba,
Malabon City, Metro Manila, Philippines
Email:    franchising@mastersiomai.co
Fax:        (02) 282-4941
Web:     http://www.mastersiomai.co
Siomai House
Another fast moving siomai franchise in the country which gives the crowd more than just happy tummies through their scrumptious siomai is Siomai House. Siomai House is one of the strong players in the siomai food cart franchising industry in the country is developed and owned by Bernabest Food products Inc. It has been in the meat business and has dedicated to develop its skills and products more through its siomai business under Siomai House. Filipino taste buds just can't get enough of the delicious siomai that it serves. The affordable price of Siomai House is just right even for students who lived on daily allowances alone. Mouth watering siomai from Siomai House are generally made from shrimp and pork but it also has other varieties like beef siomai and combination of pork and beef. They also serve refreshing thirst quencher such as pandan flavored and banana flavored gulaman paired with siomai snack as a complete combo snack for the hungry Pinoy. The franchise fee for the Siomai House is Php 250,000 which is non-refundable. The franchise package includes the following: the basic designed booth, freezer, steamer beverage dispenser, advertising signs and signage, two sets of crew uniforms, you would also have the advantage of free delivery of items for three times a week and other provisions to conduct the business are also provided. Siomai House can be seen in MRT stations, schools, groceries and other high foot traffic locations except for SM. If you are planning to get your Siomai House food cart franchise, you better make sure to get a crowded location aside from a stall in SM so you'll be approved in the ocular inspection.
If you think that Siomai House is the best siomai food cart franchise for you then the next step is to set your appointment and meet up with their franchising officer through the following contact details:
Bernabest Food Products, Inc.
118 D. Arellano St., Bagong Barrio, Kalookan City
Tel. 447-6523, 363-0226, 332-0208
Telefax. 362-1902
Email: siomaihouse@yahoo.com.ph
Web: www.siomai-house.blogspot.com
Emperor Siomai
If you think that the mentioned siomai food cart franchise above are not within your budget range and you are losing hope in getting your own business then you have to cheer up and worry no more! Emperor Siomai is one of the food cart franchise concepts of Pinoy Pao Express Inc. which offers food cart concepts for as low as Php 30,000. Emperor Siomai is indeed one of the low cost food cart franchise in the country that has reached a wide arm of branches that reached nationwide. Emperor Siomai offers a wide selection of siomai to choose from: pork siomai, beef siomai, chicken siomai, shrimp siomai, chilli crab siomai, sharksfin siomai and kani crab siomai. With your Emperor Siomai food cart franchise, you can also get another additional business which is an e-loading business. This would help you generate more profits in your business.
Siomai Goodness!
Siomai Goodness has been in the food cart franchising business for five years and since then its loyal patrons have become more loyal and more customers are intrigued with the unique and one of a kind line of siomai selections to choose from: Tocino Siomai, Longganisa Siomai, the traditional siomai made of pork and pork-shrimp are also served along with their very own chili-garlic sauce and soy sauce. To quench one's thirst, they also serve cold black gulaman. The Siomai Goodness food cart franchise package is only Php 30,000 and this package comes not only with the food cart but with an initial inventory to jumpstart your business venture. Trainings and crew uniforms are also provided as well as assistance in running your food cart franchise. If you have decided to avail of Siomai Goodness food cart franchise, then you better send your letter of intent to their email address: siomaigoodness@gmail.com.
The food cart franchising industry is definitely taking the business world by storm! More novice entrepreneurs are enticed to avail of not only one but more food carts since the price of the packages are not hard to deal with. Moreover, most companies are not charging royalty fees which makes them take charge of their profits and reap more. The siomai food cart concept is one of the most popular themes due to the fast moving trend that we have right now among the consumers. People are more on the go, even taking snacks on the go are becoming a trend. Since siomai is easy to eat and digest, it has been a favorite concept of many food carts. And if you have decided to take charge of your life and finances now, why not get a siomai food cart franchise of your own, among the top selling food cart labels that we have mentioned. Good luck on your endeavor and may you reach success in your chosen food cart franchise.