Be Cool with the coolest Zagu Pearl Shake Franchise


Zagu Pearl Shake is a fantastic food idea from a fresh graduate that turned out to be a magnificent business concept. This fresh Graduate form the University of British Columbia, Vancouver, Canada thought of creating the best and coolest beverage made, ZAGU.
After so many trials and errors this young lady managed to develop the perfect recipe that became so popular. It was April of 1999 when Zagu was launched and after that it became one of the fastest business concepts that spread out up to the Philippines.
Zagu started from a small kiosk, it rapidly grown to a network of franchise. Zagu has then blended 40 million pearl shakes and managed to have more than 290 outlets in the Philippines not counting the outlets outside the country.
Zagu: Filipinos Favorite Pearl Shake
Zagu became a popular name to every Filipinos. When you ask a Filipino what pearl shake they know, they will tell you "Zagu". You can see a Zagu kiosk everywhere all through out the year, rain or shine there will always be a Zagu pearl shake for every Filipino ready for them to sip on.
Zagu yet foreign made it tickles our tastes because of their Filipino flavors such as the Halo-Halo flavor. Its flavors became so appealing to the Filipino taste buds flavors such as mango, ube and buko pandan. These are the Zagu flavors that made them close to every Filipino's heart. Once you tried Zagu Pearl Shake for sure you will crave for more.
A Perfect Business Concept
Zagu Pearl Shakes offers wide choices of flavors that will surely arouse the curiosity of each and every Filipinos. IT will make customers wanting for more Zagu Pearl Shake. And if more Filipinos would crave for more Zagu Pearl Shakes that means it is a good business opportunity for you. The more customers Zagu has the more business for you is at stake.
Zagu as a company is dedicated in helping foreign and local partners and authorized dealers in the country to meet and even exceed their expectations. They are managing to perfect the best formula to provide the best marketing and support that each of their business partner's needs. They became one of the Giants in the franchise business world, and as one of the famous franchise companies, Zagu wanted to maintain their good reputation by implementing standards. This way they ensures their customers satisfaction will always be on top.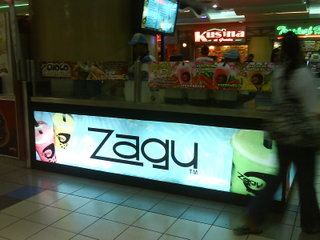 Zagu Wants You to be a Part of Its Family
You can become one of Zagu's successful business partners. Zagu is still open for application. You as a dealer are considered as a business partners, your ideas to make the business be better and stronger will always be welcomed and will be taken in consideration.
Facts and Figures:
Franchise Fee and Royalty Fee ( no franchise fee and royalty fee)
You will have the right to carry the Zagu trademark and logo
Exclusive discounts for authorized dealers
Marketing Support through event participation, and sponsorship
Nationwide recognition
Events participation
Uniforms for Service Crews
No defined Site Location
Php 270,000 – Php 300,000 (capital needed)
For more information, you may visit: