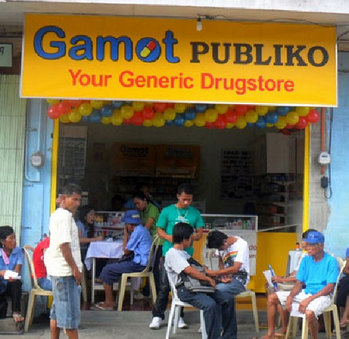 One of the biggest concerns of Filipinos right now is how high the prices of medicines are. The slogan of one multivitamin brand says it all: bawal magkasakit. Getting sick for the typical Pinoy means expensive doctors fees and equally expensive medication. Luckily, generic medicines are becoming more and more popular to the masses. No wonder: equally effective products at a cheaper cost should be celebrated. One generics pharmacy that is popular right now is Gamot Publiko.
About Gamot Publiko
Started in April 2009, Gamot Publiko had 24 branches in the Metro Manila, 14 in Luzon, 14 in Visayas and 4 in Mindanao. Franchisees are assured that stocks are  prepared and properly set up. Gamot Publiko envisions a pharmaceuticals, medicines and services that are easily accessible and affordable to the Filipino. The company is dedicated to keeping the Filipino healthy by upholding cycled medical missions.
Availing of a Gamot Publiko Franchise Has Its Advantages
The low starting capital is advantageous for the middle income FIlipino.
Medication is a necessity. People get sick everyday and the demand for good but inexpensive medication is really high.
ROI has a short cycle.
The space required for a store is small.
Dependable logistics.
Gamot Publiko is a member of PFA (Philippine Franchise Association) which is the governing body for franchising in the Philippines.
Requirements and Franchise Fees to Start a Gamot Publiko Franchise
Should you want to start a Gamot Publiko Franchise, you should submit the following:
Letter of intent
Application form
Proposed vicinity sketch or map
updated resume and photo
Submit send these to franchise@gamotpubliko.com
The franchise fee for Gamot Publiko is P160,000.0, but Gamot Publiko recommend that you should have a total of P600,000.00 as you will ahve to incur expenses other than the franchise fee. The franchise fee includes the following:
ight to utilize Gamot Publiko trademark, tradename and logo
Site Evaluation Assistance
Store Planning, outline and development help
Training on Store Operations, Product Knowledge and POS
Assistance in the start-up and opening phase of your business
Direction and instruction on generic pharmaceuticals
Marketing Assistance
Continuous business counseling and ceaseless direction
The location for your Gamot Publiko business should be in high foot traffic area, preferably near residential areas or hospital areas. Floor area must be 15 square meters. The return of investment can be achieved after 18 months.
Want to start your Gamot Publiko Franchise? Here are the Contact Details!
Should you want to start a Gamot Publiko franchise, you should contact the franchising manager though the following information:
Sheila Llorin -Operations Manager
Office Address: 2nd Floor, Unit 202, STK Building 681 Aurora Blvd., Quezon City Philippines
Telephone: +637238142 & +6327232443
Mobile Number: +639391953526 (Smart); +6399062346603 (Globe)
E-mail: franchise@gamotpubliko.com
Website: www.gamotpubliko.com
Facebook: https://www.facebook.com/gamotpublikocorp
Twitter: https://twitter.com/GamotPubliko1