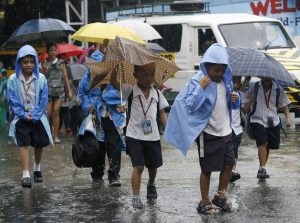 It is now July and starting to get rainy! Goodbye summer! When starting a business, you must also take into account the weather. This is because the weather affects the purchasing habits of people, your customers. Cold drinks and meals get a tank in sales and hot meals get an increase in patronage. The same goes for light clothing as opposed to rain and heavy gears. Here are some business ideas to go for during the rainy season.
Lugawan / Gotohan / Mamihan
Hot soups get an increase in sales during the cold rainy season because people feel the chill of the frequent storms on the latter half of the year. With a mami or goto house, you can shelter patrons who are stranded in the streets and entice them with your delicious smelling hot soups (win!). No money for a small restaurant? You can opt for a kiosk or food cart! The only downside is that you cannot shelter would be customers. You can remedy this by setting up your kiosk or food cart at a well sheltered area like a bus terminal or a mall.
Rice Meals / Eatery
A small eatery is also a nice idea, since most people get stuck in the road due to heavy traffic, floods and absence of public transportation. These people miss their lunch and are hungry. Of you can set up your business in front of the road, surely, there are people who will come in to take a break from getting wet in the streets and tend to their growling stomachs.
Umbrellas / Raincoat Sales
Rain gears and accessories are big during the typhoon season! Many people (like yours truly) always forget their umbrella at home and will be forced to purchase an umbrella when they pass by your shop! If you own a sari-sari store or a clothes shop, it is very lucrative to add umbrellas and raincoats to your inventory.
Bakery
Bakeries also take a huge increase in sales during the cold, rainy season due to one star product: Pandesal. The staple Pinoy breakfast bread becomes a favorite merienda in the cold rainy days. Add some Dairy Creme (yes, THAT brand, not any other margarine) to your inventory and you have a real winner.
Car Care Services
Aside from people, vehicles also take quite a beating during the rainy season. Since one cannot see the road well due to heavy storms, you are sure cars will run into a piece of pointy metal or other similar hazard in the road. that is where car care services can come in! The rainy days also force people with broken wipers and A/C (since broken A/C will fog the inside of the car) to get theirs fixed, too!