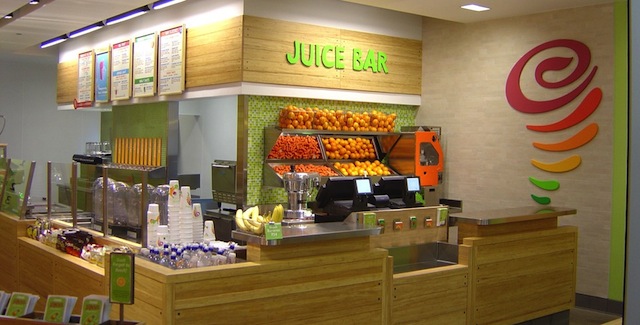 The service for healthful, natural and delicious fruit juice here in the Philippines is quite rare. The advent of health revolution has now reached the Philippines and with the lack of supply that satisfies the demand, Jamba Juice has a trully large market in the PH, especially in malls. If you want a restaurant or juice franchise that adheres to your and other people's healthy lifestyle look no further than Jamba Juice.
About Jamba Juice
An international company, Jamba Juice owns more than 300 stores and has more than 450 outlets around the globe. With 35 international locations, Jamba Juice proves to be a giant in the juicing industry.
Jamba Juice was started in 1990 in California, USA by Kirk Perron and three of his friends. For a while, they only served delicious healthful smoothies but after a few years, they added sandwiches, salad and wraps in the menu.
Now Jamba Juice is a force to be reckoned with in the food and drinks industry. Jamba Juice in the Philippines is just starting and if you want to ride the juicing trend that is making waves, you can start with Jamba Juice.
Why Franchise Jamba Juice?
Jamba Juice offers brand recognition. People here and abroad knows and love Jamba Juice, especially the heath enthusiasts. People especially recognize that large smoothie statue that every Jamba Juice branch seems to have, taking photos of themselves with the statue, exposing the brand in social media like Facebook or Instagram.
Jamba Juice is an expert in the industry, both in the technical and the business side. This system Jamba Juice uses will be yours too if you start a Jamba Juice franchise business.
The product of Jamba Juice is healthful AND delicious. This is quite an uncommon combination in food and drinks and health enthusiasts will flock to your stores.
Jamba Juice will support you, all the way when you become a franchisee. With more than 300 frnachised branches, Jamba Juice is more than experienced to help you propel your business.
How to Start a Jamba Juice Franchise: Franchise Fees and Requirements
To franchise a Jamba Juice business, you have to pay a $25k initial franchise fee, then your business will be subjected to royalty fees, excluding those on campuses and airports. Marketing fee which is around 2 to 4% will also be charged to your business.
Your location must fit the qualifications too:
1,000 to 1,400 SF
Frontage has minimum of 20 feet
Pad, end cap or corner locations are recommended
Accessibility and Visibility
Wide parking
Outdoor seating preferred

Starting the Franchise Application and Contact Details
Contact Details
You can start the franchise application by clicking this link or contacting them though the following details.
Website: www.jambajuice.ph
Email: vbbejasa@maxschicken.com.ph
Phone No.: (02)784-9000 loc. 1590
Address: 11th Flr., ECO PLAZA Bldg., 2305 Chino Roces Ave., Makati City, Philippines
Posts that you might like: