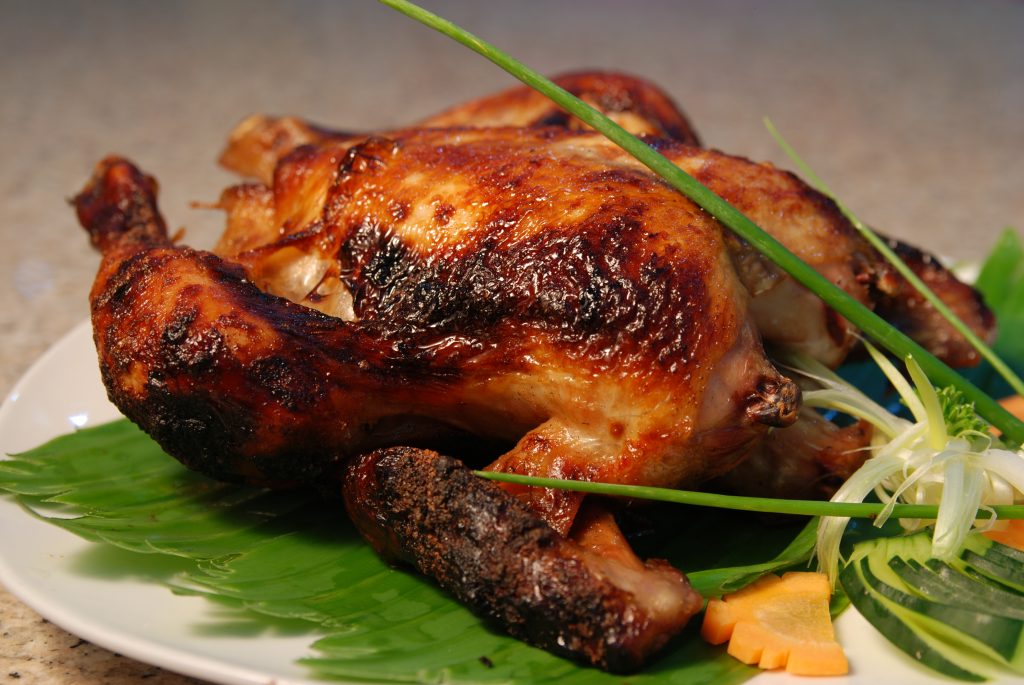 Do you know that the Filipino people consumes more chicken meat than any other meat? For every bacon that the United States of America is producing and consuming, we match this by eating fried chicken. There is really no saying how the country produce such a culture, but since it is this way, many companies have taken advantage and have done every gimmicks possible in order to maximize the thriving market with high demand for chicken-based food. This is how Jollibee have risen to become the Philippines' number one fast food chain, because the Filipinos love the chicken-joy so much and how much the gravy taste so perfectly with that chicken leg, but we would skip franchising Jollibee and focus more on those that has chicken as the number one product.
Mang Inasal
A famous company is a good advantage in the business world, because the people's speculations can make or break a company, thus all of the amazing press that pertains to Jollibee Food Corp. have done wonders for all of their subsidiaries as well. Ever since they acquired Mang Inasal, the growth and expansion has seen an increase and Mang Inasal have earned its household entry and a place in the peoples' hearts because of its delicious roasted chicken, other Filipino cuisine, and of course, the offering of the unlimited rice!
Franchise Information
The estimated investment cost needed for a branch of Mang Inasal is about ₱12-14 Million, 5% of gross sales royalty fee, and as well as 2% of sales for the advertisement fees.
Operational System
Marketing & Promotional Support
Initial Hiring & Selection, Extensive training of Store Team
Construction of the Store
Equipment and Facilities
Furniture and Fixtures
Pre-Operating Expenses
Contact Details
Main Office: 724-1111
Monday to Friday: 8am-6pm
Address: Pioneer Highlands North Condominium, Pioneer Avenue corner Madison St., Mandaluyong City 1550, Philippines
Website: http://www.manginasal.com/
Andok's Litson Manok
In over twenty five years of successful operations across the country, they have already achieved great expansion and growth. Andok's is also projected to have potential to grow especially with growing Filipino population, thus, raising the demand of the beloved andok's chicken. The metro manila commissary of the company has also received a "AA" award Good Manufacturing Practices (GMP) compliance, and the Iloilo commissary has been nominated for "AAA" standard for GMP. This only shows how much they value their client's health more than anything.
Franchise Information
Andok's is offering two franchise types: take-out and dine-in store. Both of which are offering the same amazingly good and affordable Filipino roast chicken and other Filipino cuisine. They would also provide the equipment and training needed to help you get started and so that you would not feel lost during your first few days or weeks.
The franchise fee for an Andok's dine-in store is about P500,000 and about P300,000 for the take-out store. You might also need to take care of other investment cost such as construction of the store, interior designing, furnishings and intial working capital. Thus, you would need about P800,000 to P1M for the total investment cost.
Contact Details
ACE Building
No. 25 Bulacan Street, Barangay Bungad
West Avenue, Quezon City, Philippines
Tel: +63 (2) 372-4033 loc 114
Fax: +63 (2) 376-7092
Email: franchise@andokscorp.com
Baliwag Lechon Manok
Just like they say, just by the smell of Baliwag's chicken, it seems as if you have already eaten. Yes, it is that edible. As for the taste? It is heaven! The company started from humbles beginnings, but they have come this far from sheer perseverance and determined will, after 25 years, it has become a household name and an iconic brand for lechon manok and other chicken-based products.
Franchise Information
The start-up fee is about P 250,000.00 to P750,000.00 and the size requirement also varies for each package that you would avail, but the following inclusions would be given to you:
Equipment and technological installations
furniture and fixtures installations
signage and posters
finance-related (cashier register) supply
licenses, permits, registration fees, insurance are all taken care of
trainee allowances are provided
employees uniform
initial inventory of stocks
advance rental of the location
security deposit-lessor/mall
security deposit-franchisor – varies depending on size and location of the franchised outlet
Contact Details
Website: www.baliwaglechonmanok.com
Email : inquiry@baliwaglechonmanok.com
Phone Nos. : (02)654-2929, (02)654-9001, (02)654-9002
Address: Head Office, # 1 Mercedez Avenue, Pasig City, Philippines
It's All About Chix
All About Chix Food Cart Franchise is one of the franchising concepts that is offered by the C8 Best Franchising Corporation and aims to bring financial success to the Filipino people and make an entrepreneur out of you.  The company also offers other business for budding Filipino entrepreneurs and the simplicity of this chicken business they have ensures that you would earn money while also being stress-free.
Franchise Information
There are two types of franchise package that you can avail and you can visit their website for the information about each, but for the franchise and investment cost, there are no publicly disclosed amount, since it is negotiable. Therefore, you have to contact the company for the capital needed to franchise, but the following inclusions would be given to you:
Trademark use
Technology installation
Get into the business system
Advertisement support
Staff training
Research and Development
Week-long assistance
Free Cart Delivery within Metro Manila
Free Selected Equipment
Free Cooking Utensils
Free Initial Stocks
Free Uniform of Crew / Personnel
Given operations manual
Contact Details
Website: www.c8bestfoodcart.com
Email: info@c8bestfoodcart.com
Telephone Nos.: (02)439-4018, (02)438-4017, (02)921-6984
Mobile Nos.: 0999-525-2606, 0933-487-2678, 0927-754-4399
Facebook Page: www.facebook.com/c8bestfoodcart
Address: 3rd floor, Hansel Arcade Bldg., #1 Imperial St. Cor. Aurora Blvd., Cubao, Quezon City, Philippines
Ang Lechon ni Sr. Pedro
Ang Lechon Manok ni Sr. Pedro was a product of Anakciano Inc. and offers a sweet-tasting and aromatic while also tenderly cooked lechon manok and continues to capture the Filipino taste buds completely. You are also assured of the natural and homegrown chicken due to the farms owned by the company behind Ang Lechon ni Sr. Pedro, thus, it strengthens the business and enables them to lower the price. Pedro Anakciano has started his chicken business in 1992 with his brother who is a skilled cook. Both of them did not expect such success and now they have more than 300 branches scattered nationwide and bringing lovingly-made roasted chicken to the Filipino masses.
Franchise Information
Currently, most of the branches are company-owned, but the owners are open for negotiations regarding the franchising especially if you are bringing it outside of Metro Manila. Contact them in order to know the terms that they would present for the franchise.
Contact Details
ANAKCIANO INC.
3708 Las Piedras St., Kauswagan
Cagayan de Oro City, Misamis Oriental,
Philippines, 9000
Mobile : (+63916)345-9265