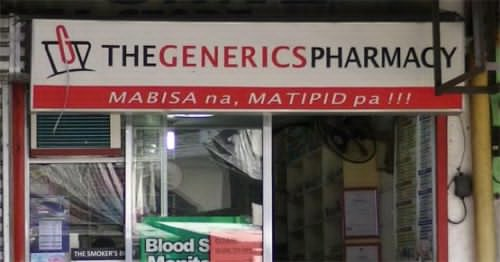 There are many people who are stricken with illnesses and diseases in the country and unfortunately, not all of them are properly diagnosed or given the right medicine, because the constitution currently does not have any national medical insurance. Actually, even PhilHealth and DOH could not give out money for the people in need. This is how the phrase "Bawal Magkasakit" is born, because the cost of medicine is far too high than the people's average salary. Worst, there are a scarcity of reputable hospitals and completely stocked pharmacy (drugstores) especially to small neighborhoods, so why don't you franchise a pharmacy right now when everyone is still demanding for it? You would not only earn a lot of profit, you would also be able to help a lot of your fellowmen.
Value Aid Generic Pharmacy
Because they value giving relief to people, Value Aid Generic Pharmacy have been striving to bring updated drugs and passionate services to the Filipino people and so far in their more than a decade of services, they have managed to branch out and bring cheaper but high-quality generic medicines to the Filipino people, especially to those who are poor and cannot afford to buy even a fever or colds medicine, and these passion to help have given them unparalleled success.
Franchise Information
The franchise fee is about P150,000 and the total investment cost is P550,000. The initial term is valid for 5 years and is renewable for only P3000 per month after the expiration date. The minimum required space for the pharmacy store is 15 square meters and you would have to pay a royalty fee that is 2% of your gross sales.
Contact Details
Franchise Office: No. 3 Unit 5, Sierra
Madre Street, Crossing, Mandaluyong City
Contact No.: (02) 998.7136 / (02) 998.7137
Citi Drug 2 and 1
Established first in Ligao City, Albay, Citidrug has set records and goes on to become a financial success in the Bicol region in 2008 and is now invading various parts of the country, because it is this drugstore who has brought the generic, therefore cheaper, medicines to Ligao. As a result, the Bicolanos are able to afford the medicines that they need without going broke. Also, the concept of the Citidrug is not only to bring cheaper generic drugs, but also to promote branded drugs because some needed-meds does not have a generic equivalent.
Franchise Information
You would need about P199, 000 for the franchise fee, but the total investment cost could amount to P1.2M, but is inclusive of the following:
Use of Trade Name and
Proprietary Marks
Location Approval
Training for Franchisee
Pharmacist and Staff
Procurement Program
Marketing Assistance
Opening Assistance
Operations Manual
Research and Development
The initial term is until 5 years and is renewable after expiration for P200 per day basis.
Contact Details
Franchising Office
2F Quililan Bldg., San Jose St., Dunao
Ligao City, Albay
TeleFax: (052) 485-2777 / 485-2218
E-mail: officecitidrug@yahoo.com.ph
RK Franchise Consultancy
Manila-(02) 911-1966 / 912-2946
Cebu – (032) 273-3827 /238-3933
The Generics Pharmacy
Next to the biggest drugstore—Mercury Drugstore—there is The Generics Pharmacy, which has been promoted by the Former President Gloria Macapagal Arroyo in response to the rising price level of medicines and the resulting increase of the untreated disease and illnesses nationwide. TGP aims to bring awareness to the Filipino people that there are cheaper, but also effective alternatives to expensive leading brands and so far, they have managed to revolutionize the face of the pharmacy in the country and has given hope to many poor Filipinos.
Franchise Information
You have to prepare a franchise fee of P290,000 and a total franchise cost of P750,000, which is relatively cheaper than other pharmacy franchises. The expected payback period is in about two to three years, depending on your location. There are a payment of about 1% for the advertisements, which is done on a national level, but does not take any royalty fee.
Contact Details
Office Address: Km. 14 Edison St., corner Culdesac St., Leviste Homes, West Service Road, Sun Valley Paranaque City 1700
Telephone: +6328211111
Mobile Number:
E-mail: comments@tgp.com.ph
Website: http://www.thegenericspharmacy.com/
Facebook: https://www.facebook.com/tgpthegenericspharmacy?ref=ts&fref=ts
Generika Drugstore
This is a product of pure perseverance and strategic decision-making. Generika started as a small pharmacy in Paranaque City in 2008, but the progress has been too slow, because the owners do not have medical backgrounds, so they decided to hire key players into the business sin order to make it grow. With patience, they achieved milestones after milestones, while also going against the giants in the drugstore industry and also striving to bring the cheapest medicines possible to the people. Currently, they have over 350 branches nationwide.
Franchise Information
There are various types of franchise that you can avail:
Standard Package – P150,000
Satellite Package – P50,000
Small Town Package – P50,000
Twin Store Package – P50,000
Drugstore Conversion – P100,000
Mini-Town Package – P30,000
But the total investment cost is about P300,000 to P1.5M and the estimated payback period in within 1 and half year to 2 and half years.
Contact Details
Office Address: DPI Bldg., 1st St. Cor. 2nd St., Cervantes Compound, KM. 17, West Service Road, Parañaque City
Telephone: +6328281818 loc. 161
Mobile Number: +639328447948
E-mail: customerservice@generika.com.ph
Website: www.generika.com.ph
Facebook: https://www.facebook.com/Generika.com.ph
Twitter: https://twitter.com/generikaPH
Southeast Drugstore
This is started merely as a small drugstore with very limited capital on hand, but since medicines are basic needs of people, they offered generic drugs to the common Filipino masses, and when that sells, they started to add branded products as well. With strong willpower and good intuition, they managed to grow the business and expanded nationwide.
Franchise Information
There are different types of store that you can avail for your franchise such as the Generics
15 square meters for generics only
20 square meters for generics and branded medicines
25 square meters for generics and branded medicines + grocery
The total capital requirement is P750,000 to P1.5M and has a five year valid contract. After that, there is a continuation fee that you need to pay for about P1000 to P2000 per month.
Contact Details
Address: 2nd Floor, Bay 6, AFPMBAI Commercial Arcade,
Soldiers Hill Village, Roman Cruz Ave.,
Brgy. Pututan, Muntinlupa City, Philippines
Contact Person: Ms. Maria Lina Cariño / Mr.Erl Solano
Phone: (02) 579-9113
Mobile: (0925)733-7847 / (0917)701-7791
Email: southeastdrugfranchise@gmail.com