Juice is one of the popular and well-liked beverages to go with breakfast, lunch or dinner. Juices are saleable and still marketable as most people crave something to refresh themselves. Juice is something to be prepared by squeezing or blending without the use of heat. Juice may be prepared even at home manually or with the use of electric juicers. There are many filtered commercial juices nowadays in the groceries. However high-pulp fresh orange juice is a popular beverage. Fruit juices contain a lot of health benefits – folic acid, potassium, vitamin C and antioxidant phytochemicals. It is good for our digestive health and can cure bladder infection. Juice is a great alternative for sodas and iced teas, as it is less sugar and a very healthy drink unless if it's artificial. Fruit juices provide powerful health benefits.
Here are some examples of common fruit juices that we see in a franchise stall/kiosk:
Orange juice – this is the most common and world's well-liked juice. One glass of orange juice a day can reduce the incidence of kidney stones.
Mango juice – This is rich in dietary fiber, vitamins, minerals and antioxidant compounds that can help us get rid of cancer such as colon, breast, prostate, and leukemia.
Grape juice – Grape juice fights against cancer, aging, diseases, and inflammation.
Apple juice – This is very rich in vitamin C which helps repair cells and tissues.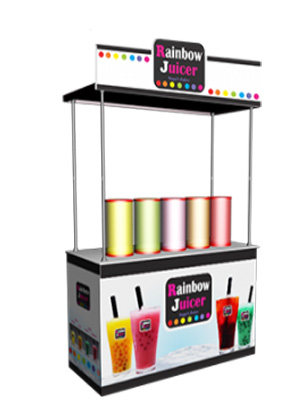 A fruit juice franchise is proven profitable type of business as most of Filipinos crave for unique thirst quenchers aside from artificial beverages in the market nowadays. Putting up a juice bar is truly a brilliant idea. Some entrepreneurs adapt the inviting ambience of coffee shops to be more attractive to all types of market. This is one of the most recommended franchise businesses because this does not require you laborious preparation as this does not involved ingredients. However, you'll need basic ingredients such as milk, sugar, and creams – very simple and easy to prepare.
Juice franchise stalls are seen everywhere from transport terminal to your closest neighbors. Juice franchise offers a wide range of selection – milk based or non-milk based variants. Nowadays, juices are often served with black pearls and grass jelly for a more likeable appearance. There are many franchising companies that offer juice franchise: Juice Bar, Jamba Juice, Fruitas, Juice Avenue, Fruit Magic, The Big Chill, Smoothie Factory, Master Juicer Philippines, and Rainbow Juicer of Filtrepreneur Franchise Inc.
Posts that you might like: